Samyang Corp. Held "Seminar on Functional Ingredients and Sugar Reduction Solutions"
2022.09.30
- Promoted prebiotic ingredients such as indigestible dextrin(resistant dextrin), fructooligosaccharide, and kestose
- Introduced "Allulose," a next-generation sweetener with zero calories, in line with the trend of reducing sugar consumption
- To accelerate the promotion of Samyang's specialty ingredients and participate in domestic and foreign food ingredient trade shows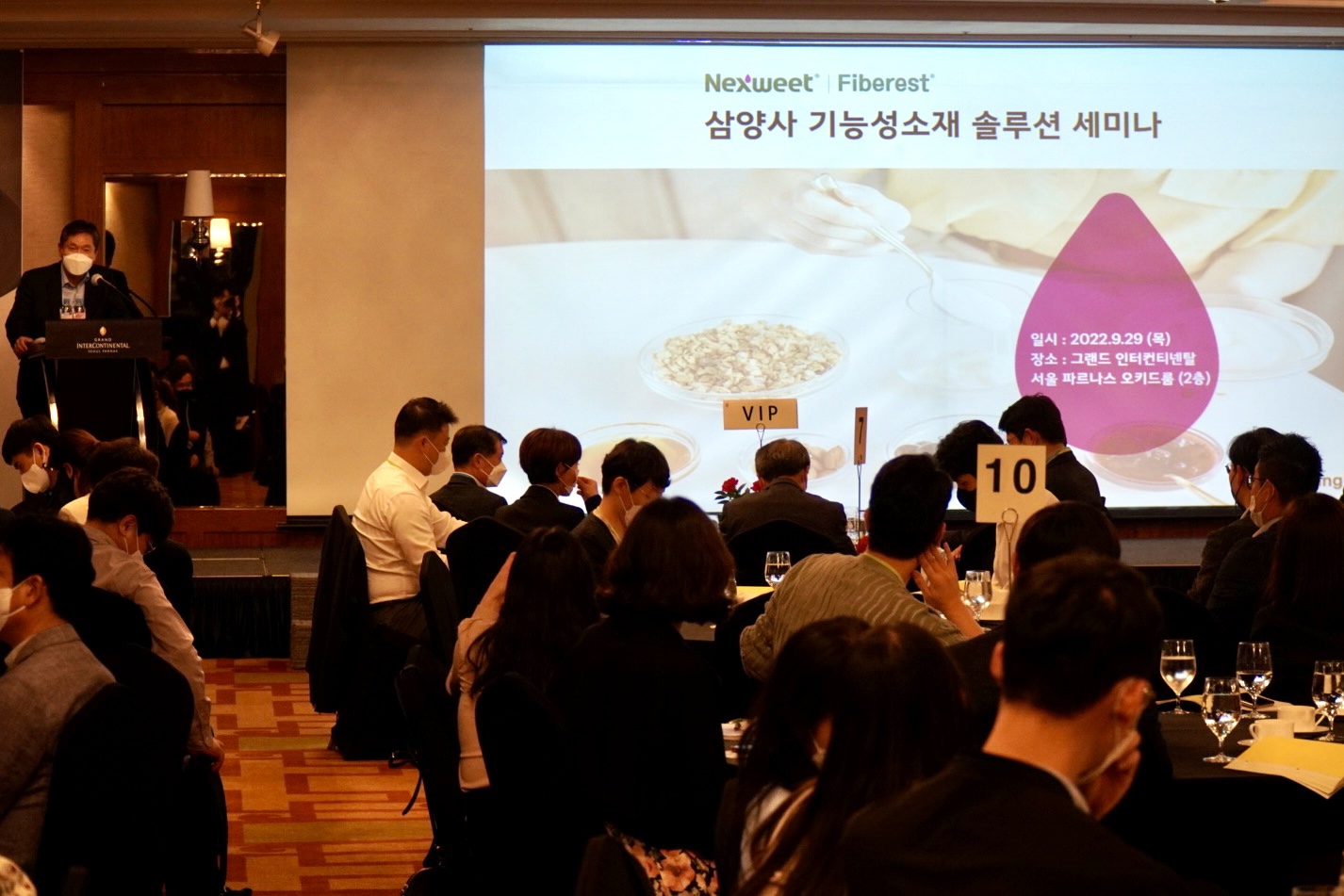 ▲ Samyang Corp. held a "seminar on functional ingredients and sugar reduction solutions" at the Grand InterContinental Seoul Parnas Hotel on September 29th.
Samyang Corp. has set out to promote various functional ingredients that can be used in food development.
Samyang Corp. (Head: Choi Nag-hyun), a food and chemical affiliate of Samyang Group, announced on September 30th that it had invited 150 people from its customers including their researchers as well as food industry officials to the "seminar on functional ingredients and sugar reduction solutions" held at the Grand InterContinental Seoul Parnas Hotel.
At the seminar, Samyang Corp. introduced Samyang's specialty (high-functional) ingredients and global food market trends under the themes of (1) Why prebiotics? (2) Samyang specialty platform (3) Sugar reduction solutions.
The seminar started with an in-depth examination of the characteristics and usages of prebiotic ingredients such as fructooligosaccharide, kestose, etc. Prebiotics, which are low-molecular fibers that are not broken down by digestive enzymes in the stomach and small intestine, promote the proliferation of beneficial bacteria in the intestine.
Indigestible dextrin, produced by Samyang Corp. under the brand name Fiberest, is a functional ingredient that can help improve bowel regularity, support healthy blood glucose levels, and lower serum triglyceride level. It can be used in beverages, confectionery, baking, fermented milk, etc.
Fructooligosaccharide is a health functional food ingredient that can help proliferate beneficial intestinal bacteria and facilitate bowel movements. It has a sweetness similar to sucrose and can be applied to dairy products and processed chocolate products. Kestose is one of the main components of fructooligosaccharides. Samyang Corp. is conducting human application tests to get kestose recognized as an ingredient for health functional food.
Indigestible dextrin and fructooligosaccharide are functional ingredients that can be considered for "functional labeling" when added to general foods. The functional labeling system allows general foods to be labeled with ingredients known to help specific functionality according to a notice issued by the Ministry of Food and Drug Safety.
In addition to functional ingredients, Samyang Corp. also introduced "Allulose," an alternative sweetener that can help reduce sugar consumption. Allulose is a component found in figs and grapes with a sweetness similar to sucrose, yet its calorie level is "zero," so it is called the optimal next-generation sweetener. Most notably, the seminar presented sugar reduction solutions through actual allulose use cases along with the trend of sugar content reduction in various food groups.
Samyang Corp. is concentrating on promoting specialty ingredients to lead the expansion of functional ingredients and the reduction of sugar. To this end, Samyang Corp. exhibited allulose and its various functional ingredients at HI (Health Ingredients) KOREA 2022, an exhibition of health functional ingredients and products held at COEX, Seoul from September 28th to 30th. The company plans to expand its global presence by participating in the HI Japan Tokyo 2022 and the SupplySide West (SSW) 2022 slated for October and November, respectively, this year.
A Samyang associate affirmed "Sugar reduction is one of the keywords in the food and beverage business. In addition, the market for foods using functional ingredients is expected to grow with the implementation of the functional labeling system. We will continue to provide opportunities to promote Samyang Corporation's unique specialty ingredients."