Samyang Group Hosts "Samyang Innovation R&D Fair 2021"
2021.11.16
- An annual event to exhibit research results to promote R&D motivation and share knowledge within the group
- Exhibition and awarding of outstanding research results... Three awards, including one grand prize and two excellence awards
- "The goal is to expand the global market and reorganize the business structure," said Chairman Kim to improve the speed and success rate of commercialization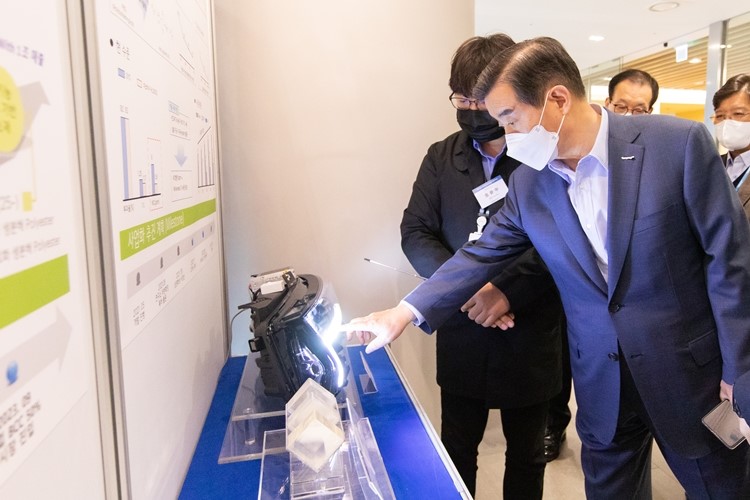 ▲ Reference Introduction of SIRF 2021 Award-Winning Projects

Samyang Group (Chairman: Kim Yoon) finds the keys to maximizing existing business performance and discovering new businesses in R&D.
Samyang Group announced that it held the Samyang Innovation R&D Fair (SIRF) 2021 at Samyang Discovery Center in Pangyo on November 10.
SIRF is an event that displays and shares the year's research results at all research institutes under Samyang Group (i.e. Foodstuffs, Chemicals, Biopharmaceuticals, Convergence Materials Research Institute, Samyang Packaging Tech Center, and KCI Research Institute). Since 2012, Samyang Group has held annual events to increase R&D motivation and share knowledge.
This year's SIRF minimized the number of on-site attendees and exhibitions to comply with COVID-19 protocols and streamed the event online following last year.
At this year's SIRF, Samyang Group held an award ceremony for outstanding tasks and the project exhibition, encouraged research and development motivation, and shared research results by presenting projects.
For SIRF 2021's Excellence Awards, Foodstuffs Research Institute's "development of next-generation allulose sweetener" won the grand prize, while two tasks jointly won the excellence prize: Chemical Research Institute's "development of PC/PBT materials for automotive interior components" and KCI's "development of high-quality hypoallergenic emulsion-type thickener."
At this awards ceremony, the grand prize winner was selected for the first time in 10 years, making it a more meaningful 10th anniversary of the SIRF. The SIRF Excellence R&D Awards are selected considering profits, contribution to company competitiveness, innovation, and creativity. The grand prize is given only to tasks with economic performance, innovation, and creativity.
On the same day, Chairman Kim Yoon asked the researchers via the in-house intranet, saying, "The core goal of the growth plan is to reorganize the business structure to expand specialty products (high value-added products) and global markets. We hope that the institute will work more closely with the business department and increase the speed of commercialization and success rate, which will be the driving force behind the achievement of the goal."
■ Reference
Promoting specialty products and global market expansion based on R&D performance
Samyang Group is promoting to expand its specialty products (high-value-added products) and global markets to maximize the performance of existing businesses and enter new businesses. The big direction of the new business is the material used in the health and wellness industry. Samyang Group entered the related market with alternative sweeteners such as allulose and prebiotics in the foodstuffs sector. Personal care materials are being fostered in the chemical business sector as a new growth engine to enter the health and wellness material industry. In addition, new materials such as highly functional compounds and biodegradable plastics are added to the business portfolio centered on polycarbonate and compound (a mixture of two or more materials such as resin, additive, and reinforcement) to maximize performance and specialization. Samyang Group's growth strategies are also revealed in the 2021 SIRF award-winning projects.
Foodstuffs Research Institute's (grand prize) rapid commercialization of new growth engines with next-generation allulose sweetener
Samyang's Foodstuffs Research Institute developed an alternative allulose sweetener, and won the grand prize for the first time in history at the SIRF. Until now, the excellence prize has been the highest award rating.
Allulose is a sweet ingredient contained in fruits such as figs and raisins, and is called the best next-generation sweetener because it has a sweet taste similar to sugar yet has zero calories. Allulose is used throughout various foods such as ice cream, fermented oil, syrup, and low-calorie jelly.
Allulose is a rare sugar that exists in minimal amounts in nature, but it can be mass-produced by reacting certain enzymes with fructose. The Foodstuffs Research Institute found enzymes that can produce allulose from microorganisms separated from food and succeeded in mass production in 2016. Since then, the institute has secured both cost and quality competitiveness by establishing its own enzyme technology with excellent allulose production capabilities and production process. The institute established products and production technologies and supported the application of allulose to actual products through joint research with client companies through collaboration with application technology development and marketing teams. Samyang's allulose is being supplied to various customers, including major domestic beverage industries, low-sugar products of dairy industries, and health functional food companies. It is also actively targeting overseas markets by obtaining overseas sales permits, patent applications, and the United States FDA GRAS ("Generally Recognized As Safe") registration as well as Kosher and Halal certification. The institute is also conducting joint research with global food companies to apply allulose to sauces, juice and beverages.
Samyang Corporation's sales of allulose are expected to increase nearly ten times this year compared to 2018. Demand for allulose continues to increase thanks to interest in health and low-sugar trends. Samyang Corporation estimates that the global market size of Allulose was about KRW 20 billion last year and expects growth by 20 to 30 times by 2030. In line with this, Samyang Corporation has promoted overseas expansion and currently has sales permits in the United States, Latin America and Asia, and plans to continue to expand to major markets such as Europe. To cope with the growing overseas demand, establishing a local corporation is also being considered from a long-term perspective.
Chemical Research Institute reinforces competitiveness of existing businesses by developing specialty materials for automobiles
Samyang's Chemical Research Institute won the excellence award for improving physical properties so that "xssxssxssxssxssxssxssxssxssmetal-textured plastic materials" (product name: Metalinus) can be used for automotive interiors. Automotive interior materials are continuously exposed to chemicals, such as air fresheners and cosmetics on human hands, and direct sunlight, requiring high chemical resistance, heat resistance, and light resistance.
Metalinus is an engineering plastic that can express various colors by inserting aluminum flakes (pieces) into polycarbonate (PC), a type of heat-resistant engineering plastic (EP), and implement a xssxssxssxssxssxssxssxssxssmetal texture by applying Samyang's coloring technology. Existing plastic products require a separate painting process to create a xssxssxssxssxssxssxssxssxssmetal-like feeling, but Metalinus does not need an additional painting process because it can express xssxssxssxssxssxssxssxssxssmetal texture and various colors only with plastic materials. Therefore, sophisticated components can be molded, and product production costs are reduced by omitting the painting process. In addition, since dyes containing substances harmful to the human body are not used, they are environmentally friendly. There is no color fading or peeling that may occur when the painted product is old. Since its launch in 2019, it has been applied to various premium household appliances such as air conditioners, vacuum cleaners, and washing machines as it can make products with sophisticated designs compared to xssxssxssxssxssxssxssxssxssmetals cost-effectively, thus welcomed by client companies such as electronics companies.
Samyang's Chemical Research Institute developed Metalinus for automotive interiors with improved chemical resistance, moldability, heat resistance, and light resistance by compounding (mixing) polybutylene terephthalate (PBT) on PC instead of acrylonitrile butadiene styrene (ABS) to apply Metalinus to vehicle components. Developed by the Chemical Research Institute, the material is applied to nine models of domestic automakers by replacing existing PC and ABS compound materials on dashboards inside vehicles – which requires to endure heat over 100 degrees Celsius – and consoles, including center fascia, due to its excellent heat resistance and light resistance. Samyang's Chemical Research Institute continues to conduct joint research with the automotive industry to apply the material to new models and is also preparing for overseas exports.
KCI targets global corporate monopoly markets by developing emulsion-type thickener
KCI, a specialty material production company for personal care products, won the excellence award for its high-quality hypoallergenic emulsion-type thickener. As a result, KCI has become the second company in the world to produce emulsion-type thickener. Emulsion-type thickener is a multifunctional composite material with all three functions: a thickener that enhances the viscosity of cosmetics, a softener that makes skin smooth, and an emulsifier that mixes the water layer (water component) and the oil layer (oil component). Emulsion-type thickeners are easy to use and maintain viscosity in a broad acidity (pH) range. In addition, it can be applied to products made at low temperatures due to its excellent solubility, so it is used throughout cosmetics such as skincare, hair care, and personal care products. Thanks to its various advantages, demand from the personal care industry, including cosmetics, is high, but production is complex, so French companies have been exclusively supplying it.
KCI started developing Emulsion-type thickeners in 2015 and developed the first-generation product in a year, but it did not secure much market share due to its low-cost competitiveness and lack of product portfolio. Accordingly, KCI started developing second-generation products in 2017 to secure production stability and improve quality and completed the development of nine second-generation product portfolios last year. Second-generation products are characterized by a variety of differentiated product lineups along with high quality.
KCI's emulsion-type thickener portfolio consists of products for high viscosity cosmetics such as elastic cream and moisture cream, products for manufacturing nutritional cream and essence, products specializing in sunscreen and mask packs, and products using natural ingredients to target the European market. Products using natural-derived raw materials are considered secret keys to target the European market. KCI's emulsion-type thickener sales had more than tripled from 19.5 tons in 2017, at its early stages of commercialization, to 110 tons this year. KCI plans to target the Asian market first and secure a global market share of around 10% by 2025 by targeting Europe and the Americas, where competitors dominated.